Fichtenberg (Germany), September 11th – KW springs with height adjustment are a great alternative to lower your car. Contrary to traditional spring kits they are not limited to a fixed lowering mount. The level of lowering can be adjusted easily to your individual requirements within a TÜV-tested lowering range. For example, the height adjustable KW springs for an Audi Q5 enable a continuous lowering of up to 70 mm. The KW lowering springs are available for the new BMW M4, Mercedes-Benz CLS 63 AMG and over 30 more types.
Compared to 'normal' springs, the height adjustable KW spring kits enable a continuous lowering just like a coilover kit. Product manager Johannes Wacker explains: "While lowering springs only allow a fixed lowering of about 20, 30 or 40 mm, the KW coilover spring kit can be varied in the lowering level. So in summer you will have the possibility to drive with a lowering of 50 mm and in winter you can adjust the lowering to 25 mm for example. With traditional springs this won´t be possible."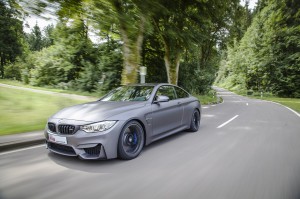 The height adjustable KW lowering springs also come with KW dust covers and KW bump stops. With the height adjustable KW springs a sporty and refined ride can be achieved without any loss of driving dynamic on performance-oriented cars. Johannes Wacker: "The new BMW M4 is the perfect car for our KW height adjustable springs due to its axle design. During our installation tests with traditional springs we realized that with a lowering of just 35 mm there isn't any suspension travel left. The M4 will only absorb bumps via the OEM bump stop. This makes the driving experience uncomfortable and in critical driving situations it can become difficult to drive. This is the reason why the height adjustable springs on the M4 allow a maximum lowering of 5 to 25 mm. So there is enough free spring travel to drive the BMW in a sporty way and also have a comfortable driving experience."    
Another advantage is the harmony of the car specific KW spring kits with the respective adaptive damping control system. Due to our development of car specific solutions all the driver assistance systems and also the comfort functions of an adaptive original damper remain. The height adjustable KW spring kits are available for many Audi models like RS 6 and RS 7 Sportback with the RS sport suspension plus with DRC (Dynamic Ride Control).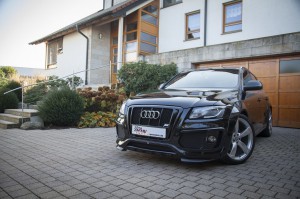 The product range of the innovative KW spring kits includes more and more Porsche vehicles with PASM (Porsche Active Suspension Management) like the Porsche 991, Boxster and Cayman. "We are expanding our product range of the height adjustable spring kits, which you can also call coilover spring kits", so Johannes Wacker. The height adjustable spring kits are also available for BMW M3, M5, M6, Maserati Quattroporte, Mercedes-Benz SLS AMG, Nissan GT-R and a lot more. Even for SUVs KW have developed coilover spring kits that improve not only the vehicles aesthetics but also the driving dynamics. The service engineers of every specialist workshop and tyre shop can replace the original springs with KW springs within a few hours. The high quality KW manufacture processes ensures a long lifetime of the product.