Fichtenberg, (Germany) January 13th 2015 – We now have a Variant 3 KW coilover kit available for the IS 250 with 208 hp and the hybrid model IS 300h with an overall output of 223 hp, as well as for the 310 hp Lexus IS 350 that is only available in North America and Japan. The stainless steel suspension kit is separately adjustable in compression and rebound damping and allows a continuous lowering of up to 45 mm. In addition to a sporty appearance, the driving dynamics of the sedan are also increased.
The continuous lowering of KW coilovers for the Lexus IS 250, Lexus IS 300h and the Lexus IS 350 is achieved directly at the stainless steel strut via the dirt-resistant KW trapezoid thread. The Lexus IS models belong to the Toyota Group and can be lowered continuously within the approved adjustment range from 15 to 45 mm at the front while on the drive axle, the adjustment range is between ten and 40 mm.
"The times when lowering by a coilover suspension meant hard and uncomfortable rides are over" explained KW product manager Johannes Wacker. Already in its basic setup, the KW coilovers increase the steering precision and stability of the Lexus IS. "With our Variant 3, drivers have an accessory product to perfectly match their Lexus on their individual driving demand," continued Johannes Wacker.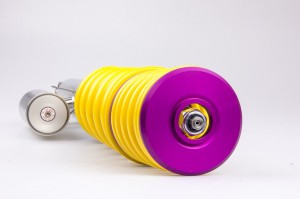 "Especially in the US, the Lexus is extremely popular, including the hybrid model. Many performance-oriented drivers in America rely on the IS 350 with its 310 hp 3,5-litre-V6 engine." With its integrated rebound adjustment with 16 exact clicks, the KW Variant 3 coilovers allow the driver to significantly influence the handling and comfort. The compression level can be adjusted separately with up to twelve exact clicks. "In addition to a targeted consideration of the tire characteristics, the driver can also take influence on potential rolling motions of the car." As the adjustment wheels are integrated, no tools are necessary. The Lexus IS models that are equipped with a KW coilover suspension can now be driven even more direct and safe at the limit.
The performance and adjustment reserves of the KW Variant 3 coilovers have been proven by the Lexus IS "340" which has a tuned 3,4 liter Toyota Supra (2JZGTE) six-cylinder engine with 700 hp. It was built especially for the SEMA show on the base of a Lexus IS 250.