KW Competition w globalnym motorsporcie
Teamy wyścigowe z dużymi sukcesami na całym świecie stawiają na nasze opatentowaną technologie zaworową KW Competition. Przez wieloletnie doświadczenie w międzynarodowym motosporcie jest KW jako producent zawieszeń najlepszym adresem.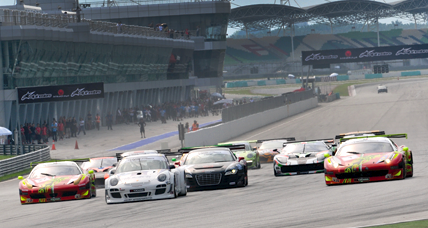 Niezliczone ilości wyścigów, na szczeblu narodowym i międzynarodowym, niezależnie od tego czy są to wyścigi Touring Car Sport, GT Championships, Time-Attack-Races, Rally Championships, Truck-Grand-Prix czy Formula Sport – KW jest sprawdzonym i zaufanym dostawcą
WTCC – the FIA World Touring Car Championship
KW Hill Climb Group H
King of Europe
VLN Long Distance Race Championship Nürburgring
International GT Open
ADAC GT Masters
i wiele więcej…

KW Hill Climb Cup Group H – Pure motorsport for Privateers
---
There are probably only a few racing events more varied than Hill Climb Races. The immense variety of different racing cars – from touring car-, formula- or rally sport – makes the Hill Climb races that attractive for spectators. With the wide range of racing solutions, KW Competition is the top supplier "at the hill" and presents the racing series since many years, that gives a platform to both, the old and modern racing cars the same way.

ADAC PROCAR / DTC – the German Touring Car Series
---
With its 16 runs at eight races in the Netherlands, Austria and Germany, the ADAC PROCAR is one of the most attractive motor sport series for ambitious private teams and tuners. Also in this series, KW Competition is active as a partner and team supplier.

DMV BMW Challenge
---
Since 2017, KW is the official series- and technology partner of the DMV BMW Challenge. For this reason, we increasingly offer KW Competition racing suspensions for the classic BMW motorsport cars that correspond with the respective regulations.

King of Europe – Vehicle control in perfection
---
From the very beginning, KW Competition supported the European Drift scene as a partner and supplier. At the King-of-Europe-Drift series presented by ST suspensions and KW, not only European teams participate, but even drifters from Japan, where the drift sport was born, take place at the drift series that tours through Eastern Europe.

VLN Long Distance Race Championships Nürburgring
---
The Long Distance Race Championship on the Nürburgring is one of the most attractive racing series in Germany. KW Competition equips more than half of the participating motor sport teams at the races on the legendary Nürburgring Nordschleife. Finally, Teams with KW Competition racing technology are leading in the "Green Hell". Numerous overall victories, class victories and even record times on the Nordschleife are reached by teams that rely on the racing technology from KW.

ADAC GT Masters
---
In the recent years, KW has equipped the defending champion. Since 2017, KW also equips the Porsche customer motor sport team "KÜS Team75 Bernhard".
Inne team'y polegające na KW Competition w motorsporcie:
---